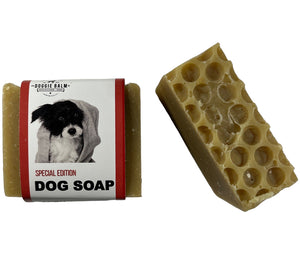 DoggieBalm Manuka & Coconut Oil Natural Soap Bar featuring Camel Milk
(min. 110g - 130g) 
Restore and promote healthy skin & coat with this specially handcrafted shampoo bar. 
This shampoo bar is specially formulated and perfect for dogs who can't wash with goats milk, hemp seed oil or essential oils.


For Doggie skin that will look soft, smooth and radiant, turn to our Doggie Balm Soap Bar. With all natural moisturising ingredients, it goes beyond your normal soaps and will always leave your dog nourished after each wash.

We believe no other soap will hydrate and clean better than our handmade, all natural Doggie Balm Soap Bar. Our soap bars are full of essential nutrients for dogs.
Special Edition - We've created something special for all dogs.
This special edition natural soap featuring Camel Milk is handcrafted and made from powerful natural ingredients to restore dog coat & skin.

Natural Ingredients
Coconut oil, Olive oil, Camel milk, Manuka honey, Cocoa butter, Rice bran oil, Castor oil, Oatmeal - nothing else!
A word about Camel Milk!
Camel Milk is bursting with wonderful minerals and vitamins that dog skin loves. This is the perfect superfood for dog skin due to unique nutrients and hydrating ability that will leave your dog skin nourished and richly moisturised. 
Our soap bars are highly recommended for dry and sensitive skin and will help soothe inflamed or itchy Doggie skin. Your dog will absolutely love being hand washed by our beautifully made healing soap bars.

Apply by hand - wet and work soap into a lather then apply to dog coat by hand. Rub all over and then rinse. Avoid nose and eye area

____________________________________________  
REFER BELOW PRODUCT USAGE GUIDE FOR BEST RESULTS
DOGGIEBALM MANUKA & COCONUT OIL SOAP
SUGGESTED USAGE
Wash weekly until you notice improvement in skin & coat (change to fortnightly cycle for normal maintenance).


RECOMMENDATION




Allow up to 4 weeks for best results and any health assessment. Results may be noticeable from 5 days.