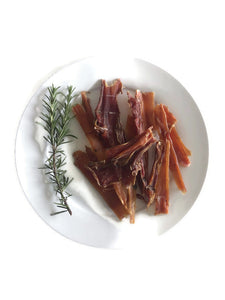 Natural Healthy Veal Tendons
100% Australian Veal - nothing else.
Tasty dehydrated Aussie veal pieces are full of crunch and high in protein and work to promote healthy gums and teeth as they work to reduce tartar build-up and remove plaque and smelly breath. These treats are gluten-free and grain-free and high in essential nutrients and vitamins for amazing dog health and well being. 
The veal tendons can be easily broken into small pieces for small dogs.
DoggieBalm treats are 100% Natural and sourced from local Aussie farms. We do not import our treats.

INGREDIENTS: 100% Australian Veal, No additives, preservatives or hidden agents.