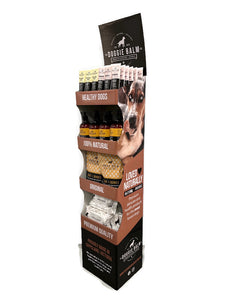 ** RETAIL ** DoggieBalm Co.® Retail Skin & Treat Combo - Dog Stand 
All of DoggieBalm's best sellers now available in a beautifully designed retail dog stand. This stand comes pre-filled with our amazing range of best selling retail skincare products (non-negotiable). 
We've done the hard work for you so you can focus on giving your customers the absolute best natural dog care products by DoggieBalm.
Chemical Free! Paraben Free! No Nasties!  

Here's what you'll receive in this amazing retail offer:

Qnty 18 Paw & Nose Balm 60g
Qnty 18 Manuka Healing Balm 60g
Qnty 6 Best Selling Joint & Bones Biscuits 300g
Qnty 8 Manuka & Hemp 2in1 Shampoo 500mL
Qnty 10 Natural Dog Wipes (80 per pack)



We supply the DoggieBalm Dog Stand at no charge. *Conditions apply
First time purchase is for the complete stand as pre-filled (non-negotiable). Specific products selected compliment each other and are a fantastic introduction to DoggieBalm skincare and health.

Refills & Top ups have no minimum purchase or product restrictions. You can order anything from the wholesale portal or mix & match as you wish.
* Terms - We supply the DoggieBalm Dog Stand free of charge on the condition that you return the stand if you decide to stop or no longer sell DoggieBalm Products in your store. Retail value of Dog Stand is $350.00

* You are not permitted to sell other brands on the DoggieBalm Dog Stand - it is provided

exclusively

 for DoggieBalm products. You accept this condition when you agree to purchase.

* DoggieBalm reserves the right to remove the DoggieBalm Stand if any of the terms are breached.