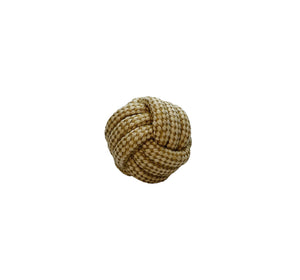 Natural Hemp Ball - Dog Toy
Ideal for keeping small pups and medium size dogs entertained. 
Made from Natural Hemp - Hemp is a sustainable, natural fibre that is biodegradable, compostable.
Antimicrobial properties and natural smell
Safe for puppies
Non toxic, no chemicals 

Sustainable and biodegradable 
Will help keep dogs teeth clean and healthy as it chews

Always supervise your dog while playing with chewing toys. Manufactured using non-toxic materials. No pet toy is indestructible / Designed to be regularly replaced.