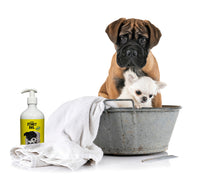 AUSTRALIA'S BEST STINKY DOG SHAMPOO FORMULA.
We believe this is Australia's Best Stinky Dog Shampoo formula. We've made a gentle but powerful plant-based formula which is more refreshing, thicker and better for the skin than any standard 2in1 shampoo & conditioner to give a deep cleansing, anti-bacterial odour fighting wash for the smelliest dog.
SHOP
WHAT WE DO.
WE HARNESS THE POWER OF MOTHER NATURE TO CREATE, NATURAL, HEALTHY AND INNOVATIVE SKINCARE, HEALTH AND WELLNESS PRODUCTS THAT ARE INSPIRED BY THE LOVE OF DOGS.
DoggieBalm Co. uses premium natural ingredients to craft gentle & effective products that feel luxurious - but in fact are very affordable.  Learn More
DOGS THRIVE WITH DOGGIEBALM®
Value Bundles and gift packs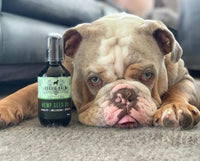 HEALTHIER, HAPPIER DOG
PLANT BASED ORGANIC SUPERFOOD FOR BETTER SKIN, IMPROVED IMMUNITY AND BETTER DOG HEALTH & WELLBEING.
★★★★★
AUSTRALIA'S NO.1 DOG OIL
DoggieBalm Organic Certified Australian Hemp Seed Oil is changing lives. Improved gut health, reduces inflammation, promotes healthy skin & coat, soothes itchy skin, improves digestion, supports healthy immunity and wellbeing. Simply add to every meal for full health benefits.
SHOP NOW
NATURAL HEALTHY DOG TREATS
Australia's favorite dog treats
100% healthy natural treats
Natural Healthy Supplements & natural dog food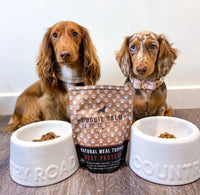 NO MORE BORING MEALS
Your dog will gobble every meal when you add DoggieBalm healthy and delicous tasting single ingredient meal toppers to their daily meal! Amazing natural flavours that will get them excited about food. 100% natural and bursting with healthy protein and minerals.
SHOP NOW

Shop Now. Pay Later.
We offer Afterpay. Afterpay is a lifestyle product which makes shopping more convenient. Enabling you to get the things you want when you want them, while managing payments over time. Select Afterpay as a payment option when you checkout.
cart fillers | add an extra surprise (other brands)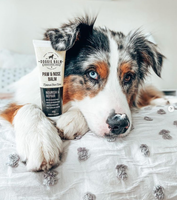 Where to find us?
DoggieBalm® can be found in major retail outlets and online platforms. We are also found in the UK, Europe and Singapore. DoggieBalm® is a registered Trademark. See our Authorised Stockists.
Guaranteed Excellence
We are proud to be certified Australian Made and Owned. You can have complete confidence that when you buy DoggieBalm Co. you are using the highest quality and most natural healing balms for your Dog.