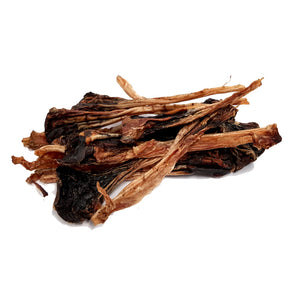 Natural Healthy Kangaroo Tendons - 100% Natural & Organic
100% Australian Kangaroo - nothing else.
High quality Kangaroo tendons are the perfect chew for dental hygiene and healthy gums but also high in protein and low in fat which makes them a perfect natural treat. 
Single source fibre, protein, iron & zinc
Chewing Kangaroo tendons cleans teeth and strengthens gums 
Please note: The Kangaroo tendons will vary on size depending on the animal. We will always pack to weight so you get the best value. 
No additives. No Fillers. No enhancers. No preservatives

INGREDIENTS: 100% Australian Kangaroo