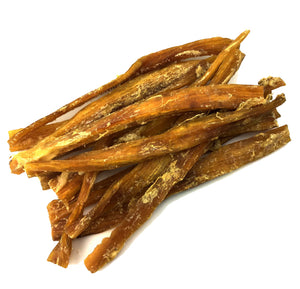 Premium (Natural) Aussie Beef Tendons - Dog Treats
100% Australian Beef Tendons - nothing else (recommended for large dogs)
These premium, beef tendons are all natural and made from the back/neck tendons of Aussie cows. These tendons are a tough chew and a perfect boredom buster for large dogs. Also delicious tasting and rich in protein, vitamins and minerals.
These are perfect dental chews as they are completely natural and don't have any preservatives, hidden nasties or added sugar or color unlike factory produced dental sticks. 100% natural tendons will support healthy teeth and gums.

The tendon size will vary depending on the animal (typically 15-25cm).
These are unprocessed tendon and some pieces may have sharp ends. Please always supervise your dog when giving treats and ensure a bowl of water is available. Not recommended for small dogs.
No additives. No Fillers. No enhancers. No preservatives

INGREDIENTS: 100% Australian Beef