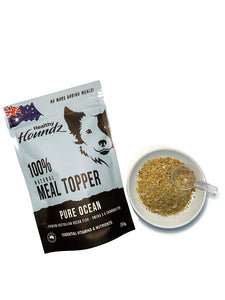 Australia's Best 100% Natural Pure Ocean Meal Topper (250g)
You love Healthy Houndz®  Natural food so we know you'll love their natural meal boosters.
Healthy Houndz® Sustainably fished Australian Ocean Fish (Shark) is rich in Omega 3 & 6 and contains Glucosamine and natural chondroitin which can assist with healthy immune, skin and hair, and strong bones and joint mobility. Complete nutrition from mother nature, - not an overseas factory
No more boring meals! (just clean food bowls)
Healthy Houndz® make amazingly fresh, nutritious, and delicious tasting meal toppers so your dog never has to have a boring meal - ever again!
Healthy Houndz meal toppers are 100% natural and nutritious food boosters particularly rich in vitamins and minerals to help your dog live happy and healthy.
____________________________________________  


REFER BELOW PRODUCT USAGE GUIDE FOR BEST RESULTS
NATURAL PURE OCEAN MEAL TOPPER


SUGGESTED USAGE


Simply add a light sprinkle of this delicious meal topper to your dog's regular food to boost flavour, and add nutrition to support optimal health and wellbeing. 


RECOMMENDATION


0-5KG - 0.5 teaspoon daily
5kg-25g - 1 teaspoon daily
25kg+ - 1.5 teaspoon daily
Amazing 250g Value-Pack!
Ingredients:
100% Australian Fish/Shark - Nothing else.