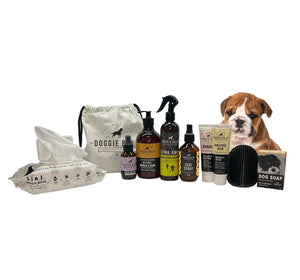 The Luxe Premium Gift Pack has everything you need to ensure gold class care for your beloved fur baby all year round.
Suitable for all breeds & all ages.
The Luxe Gift Pack will make the ideal personal gift to that special family member or friend who loves and appreciates dogs as much as you do. (This gift set is valued at $249.57 but you'll pay an unbeatable price at just $129.90).
This is a special gift pack that offers first class care.
All of our natural and organic skin and care essentials are included in this gift pack which is designed to provide the complete premium grooming experience.  
Here's what you'll receive in this Luxe Premium Gift Pack;
(Items are wrapped individually)
2 Packs! Best Selling Natural Doggie Wipes (160 wipes total)
Natural Skin & Coat Dog Wipes (80 wipes per pack). Perfect for daily cleaning, and freshening up your puppy. Premium natural ingredients that will promote and protect skin & coat. Suggest use daily and in-between baths. Completely Natural & Safe. (Photo only displays 1 pack but 

you will receive 2 packs

)


1x Bottle DoggieBalm All Natural Manuka & Hemp 2in1 Dogwash (500ml)
DoggieBalm 2in1 Shampoo & Conditioner is made from the most purist and natural ingredients (features Manuka Honey and Australian Hemp Seed Oil) which are known to nourish, rejuvenate, and invigorate skin and coat after every wash (ideal for sensitive skin dogs).


1x Bottle DoggieBalm COAT Spray Leave-In Conditioner (200ml)
A premium no rinse conditioner and detangler (spray and leave) that boasts only the highest grade natural and organic ingredients designed to promote  healthy and glossy dog coats. Suggest using after daily wiping. A must-have care product for every dog.


1x DoggieBalm Paw & Nose (60g) 


The original and best dog balm! A deep, rich skin nourishment & repair balm. Perfect for paw protection and skin and nose maintenance.




1x DoggieBalm Manuka Balm (60g)


Our best-selling Manuka balm featuring Raw Manuka Honey. 




1x Groomers Mit / Rubber Palm Massage Brush
Perfect for massage, and hair stimulation. Perfect for brushing down your dog before and after applying our COAT Leave-In Conditioner Spray. (Due to stock availability colour may vary from grey to black)


100g DoggieBalm Natural Oatmeal and Organic Goats Milk Soap


We believe no other soap will hydrate and moisturise better than our handmade, all natural Doggie Balm Soap Bar. Our soap bars are full of essential nutrients for dogs.




Your choice of Natural Spritz (100ml)


A Doggie Cologne/Perfume/Aftershave. A first class fragrance designed for the most sophisticated of dogs.




1x Bottle DoggieBalm Stink Away 300mL 


A must have product for every dog parent! DoggieBalm Stink Away Spray contains natural enzymes to assist breakdown of odour molecules to help make the STINK go-Away Naturally. (Do not spray directly onto your dog. This spray is to be used on furniture, flooring or bedding)




 

A little taste of our healthy natural treats (oven baked biscuit




PLUS + You'll also receive these amazing bonus products..
DoggieBalm Travel/Shower Bag
The perfect travel shower bag to carry your essential bathing items.


Free Shipping
No shipping charge when you order this pack.
RRP $249.57  * You'll pay just $129.90