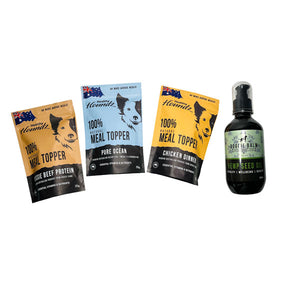 Natural Supplement Starter Pack (Includes Organic Hemp Seed Oil)
This amazing Natural Supplement Pack is the perfect introduction for your dog. Say goodbye to boring meals!
Your dog will experience a new level of delicious, and nutrient rich vitamins when you add these natural supplements to daily meals.
Not sure where to start? Start here with this introductory pack.
You love Healthy Houndz™  Natural food so we know you'll love their natural meal toppers.
Our natural meal toppers and Organic Hemp Seed Oil are full of essential omega oils, protein, and essential nutrients and only made right here in Australia using the highest quality natural ingredients. We don't import ingredients - ever.
You'll receive:

1x 200mL DoggieBalm Hemp Seed Oil (Certified Organic)

1x 250g Meal Topper of Your Choice!
Our organic certified Hemp Seed Oil and Meal toppers contain essential vitamins, nutrients and amino acids that contribute to healthy hair, skin, muscle development and also can boost energy levels in dogs to help keep them strong and healthy.
Simply add a light sprinkle of our delicious meal topper and hemp seed oil to your dogs regular food to boost flavour, and add nutrition to support optimal health and wellbeing. 

MEAL TOPPER SERVING SUGGESTION
0-5KG - 0.5 teaspoon daily
5kg-25g - 1 teaspoon daily
25kg+ - 1.5 teaspoon daily