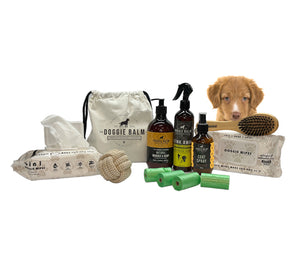 Puppy Essentials Pack - Made for new parents and puppies
Everything you need as a new puppy parent is in this pack. Whether you are a first time pup parent or your excitedly waiting on your new pup arrival. You need these puppy essentials
This wonderful Puppy Pack has all of the puppy essentials for new puppy owners. All DoggieBalm products are made from natural and organic ingredients. 
Puppy skin is sensitive, that's why we only use  gentle, all natural ingredients that will nourish and protect puppy skin.
Here's what you'll receive in this Puppy Essentials Pack;

2 Packs! Best Selling Natural Doggie Wipes (160 wipes total)
Natural Skin & Coat Dog Wipes (80 wipes per pack). Perfect for daily cleaning, and freshening up your puppy. Premium natural ingredients that will promote and protect skin & coat. Suggest use daily and in-between baths. Completely Natural & Safe. 


1x Bottle DoggieBalm All Natural Manuka & Hemp 2in1 Dogwash (500ml)
DoggieBalm 2in1 Shampoo & Conditioner is made from the most purist and natural ingredients (features Manuka Honey and Australian Hemp Seed Oil) which are known to nourish, rejuvenate, and invigorate skin and coat after every wash (ideal for sensitive skin pups).


1x Bottle DoggieBalm COAT Spray Leave-In Conditioner (200ml)
A premium no rinse conditioner and detangler (spray and leave) that boasts only the highest grade natural and organic ingredients designed to promote a healthy and glossy dog coat all year round. Suggest using after daily wiping. A must-have care product for every pup.


1x DoggieBalm Eco Brush (Made from sustainable bamboo)


Brushing daily will stimulate circulation and hair growth and promote healthy coat.




1x Bottle DoggieBalm Stink Away 300mL 


A must have product for every puppy parent! DoggieBalm Stink Away Spray contains natural enzymes to assist breakdown of odour molecules to help make the STINK go-Away Naturally. (Do not spray directly onto your pup. This spray is to be used on furniture, flooring or bedding)




4x Rolls Poop Bags (4 pack)
Everyone needs to clean up after their puppy. These poo bags are affordable, eco-friendly and degradable. 
PLUS + You'll also receive these amazing bonus products..

DoggieBalm Travel/Shower Bag
The perfect travel shower bag to carry your essential bathing items.


Natural Hemp Chew Ball
(sustainable, non-toxic, safe for puppies)
Safe and natural chew ball made from natural hemp fibre - no chemcials.
Will help with chewing/teething.


Free Shipping
No shipping charge when you order this pack.
RRP $187.63  * You'll pay just $125.90

 ____________________________________________