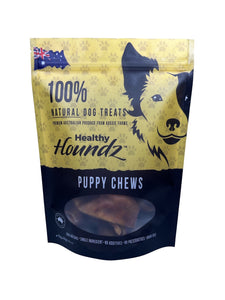 Natural Healthy Puppy Chews
100% Australian Pork - nothing else.
These delicious dehydrated Aussie pork pieces (tiny ear strips) are the ideal chewing treat for your little puppy or small dog. They'll enjoy chewing on these healthy treats which are high in protein and great for occupying dogs who like to chew. Chew-able treats have the added benefit of promoting dental health.
Our Puppy Chews are 100% Natural sourced from local Aussie farms. High in essential nutrients and vitamins for amazing dog health and well being.

Natural treats can be smelly. We do not spray our treats with any preservatives or additives to control smell or shelf life. Our natural treats are smelly because they are completely natural and dogs love them
No additives. No Fillers. No enhancers. No preservatives
INGREDIENTS: 100% Australian Pork, No additives, preservatives or hidden agents.