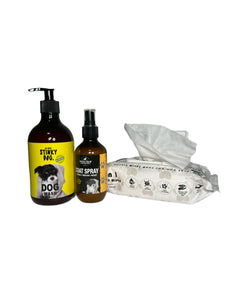 The perfect collection of essential pooch pampering bath products that will ensure your best friend is the best smelling pup in the street! 
Immerse your best friend in the beautiful aroma of our Natural Doggie Balm Shampoo and Coat Conditioner Spray (no water required)
This value pack has been put together for our regular doggie friends who demand to look, feel and smell terrific every day of the year. But also want amazing value!
Here's what you'll receive;

1x Australia's Best Stinky Dog Shampoo (500mL)
Vitamin enriched Stinky Dog Wash 2in1 is a refreshing natural dogwash featuring completely pure & natural ingredients to cleanse, condition and invigorate your fur baby from head to toe. This unique, nourish-rich was is made for normal skin dogs and suitable for all coat types.


1x Pack Best Selling Natural Doggie Wipes (80 wipes total)
Natural Skin & Coat Dog Wipes (80 wipes per pack). Perfect for daily cleaning, and freshening up your puppy. Premium natural ingredients that will promote and protect skin & coat. Suggest use daily and in-between baths. Completely Natural & Safe.


1x Bottle DoggieBalm COAT Spray Leave-In Conditioner (200ml)
A premium no rinse conditioner and detangler (spray and leave) that boasts only the highest grade natural and organic ingredients designed to promote a healthy and glossy dog coat all year round. Suggest using after daily wiping. A must-have care product for every pup.
RRP $71.87  * You'll pay just $45.95