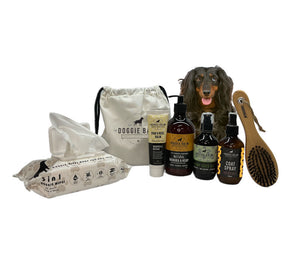 Our Ultimate Coat & Skincare Pack is made from expertly crafted natural formulations to provide your dog a premium grooming and healthcare experience.
We've combined mother nature's most sophisticated ingredients to bring together a luxurious range of natural skincare and health products for your dog.

No Parabens, No Masked Chemicals - Made in Australia with only Premium Natural Ingredients.

Suitable for all breeds & all ages.
All of our natural and organic skin and care essentials are formulated to deeply-condition, reinvigorate and restore dog coat and skin. 
Here's what you'll receive in this Ultimate Coat & Skincare Pack;
(Items are wrapped individually)
1 Pack Best Selling Natural Doggie Wipes (80 wipes total)
Natural Skin & Coat Dog Wipes (80 wipes per pack). Perfect for daily cleaning, and freshening up your puppy. Premium natural ingredients that will promote and protect skin & coat. Suggest use daily and in-between baths. Completely Natural & Safe. 


1x Bottle DoggieBalm All Natural Manuka & Hemp 2in1 Dogwash (500ml)
DoggieBalm 2in1 Shampoo & Conditioner is made from the most purist and natural ingredients (features Manuka Honey and Australian Hemp Seed Oil) which are known to nourish, rejuvenate, and invigorate skin and coat after every wash (ideal for sensitive skin dogs).


1x Bottle DoggieBalm COAT Spray Leave-In Conditioner (200ml)
A premium no rinse conditioner and detangler (spray and leave) that boasts only the highest grade natural and organic ingredients designed to promote a healthy and glossy dog coat all year round. Suggest using after daily wiping. A must-have care product for every dog.


1x DoggieBalm Paw & Nose (60g) 


The original and best dog balm! A deep, rich skin nourishment & repair balm. 




1x DoggieBalm Eco Brush (Made from sustainable bamboo)
Brushing daily will stimulate circulation and hair growth and promote healthy coat.


1x DoggieBalm Organic Australian Hemp Seed Oil 200mL 


This plant-based bottle of superfood is an excellent source of essential amino acids, Omega 3,6 & 9, Vitamin E, and beneficial fatty acids known to support healthy skin, gut, immune and overall wellbeing.  




 
PLUS + You'll also receive this amazing bonus product..
DoggieBalm Travel/Shower Bag
The perfect travel shower bag to carry your essential bathing items.


RRP $169.70  * You'll pay just $84.99