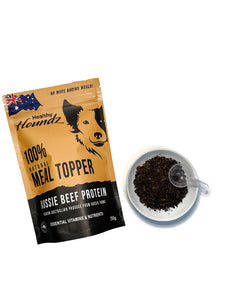 Australia's Best 100% Natural Beef Protein Meal Topper (250g)
You love Healthy Houndz™  Natural food so we know you'll love their natural meal boosters.
Healthy Houndz™  Australian Natural beef protein is only made from Aussie grass-fed beef and contains essential amino acids that contribute to healthy hair, skin, muscle development and also can boost energy levels in dogs to help keep them strong and healthy. Complete nutrition from the farm, - not an overseas factory!
No more boring meals! (just clean food bowls)
Healthy Houndz make amazingly fresh, nutritious, and delicious tasting meal toppers so your dog never has to have a boring meal - ever again!
Healthy Houndz meal toppers are 100% natural and nutritious food boosters particularly rich in vitamins and minerals to help your dog live happy and healthy.
____________________________________________  


REFER BELOW PRODUCT USAGE GUIDE FOR BEST RESULTS
NATURAL AUSSIE BEEF PROTEIN MEAL TOPPER


SUGGESTED USAGE




Simply add a light sprinkle of this delicious meal topper to your dog's regular food to boost flavour, and add nutrition to support optimal health and wellbeing. 




RECOMMENDATION




0-5KG - 0.5 teaspoon daily




5kg-25g - 1 teaspoon daily




25kg+ - 1.5 teaspoon daily
Amazing 250g Value-Pack!